Get ready to GameBlast!
It's here! GameBlast23, the UK's biggest annual charity gaming marathon weekend is the event specifically for gamers, to help gamers, via the gamer's charity. That makes it the best excuse to game EVER!! A big GameBlast23 welcome to the hundreds of amazing people from the gaming community and industry who'll be supporting the event this weekend.

You'll be raising money for us – SpecialEffect. We're there for the thousands of people who want to share your passion for video games, but their physical disabilities stop or limit their ability to play any of the titles you're fanatical about.
People like Athion, whose cerebral palsy makes using a standard games controller difficult. But with the loan of a personalised accessible controller setup devised by our specialist assessment team, he's now loving playing Mario Kart with his family. The sponsorship you raise through GameBlast23 will help us change the lives of many more people like Athion by bringing the magic and inclusivity of gaming into their lives.
---
Who's streaming?
You're raising money in all sorts of ways this weekend, and here's a few links to find out what's going on.
Stream timetable on Discord
---
Who's taking part in GameBlast23?
There are already hundreds of amazing GameBlasters who've signed up to play and livestream their game-related antics over the weekend, and we can't wait to meet them! A big thank you as well to all the veteran Blaster individuals, groups and communities who are gearing up for a return to the fun.
We're honoured to have a whole heap of industry support this year as well. RARE are running a stream with prizes donated by Pro Gamers Group and Noblechairs, Warframe are looking to raise $5000 on their Twitch channel, SEGA will be running another amazing stream team this year, EA DICE are planning a six hour studio stream, and the CD Projekt Red Twitch channel on Tuesday has already featured Pawel and Doug Cockle. SUMO are dedicating a whole week of streams.
Then there's Deep Silver, who will be playing Saints Row on Saturday, and we also welcome Dovetail to the GameBlast madness. All this is on top of the gorgeous Insert Coin GameBlast mugs and the prizes donated by AOC. It's going to be a packed weekend!
---
Why does GameBlast matter?
The money you raise will be helping gamers with disabilities find out what they want to play, and exactly what they need to play it. Everyone's abilities are different so we'll match, modify or create custom gaming setup loans, and offer lifelong support to cover changing abilities and gaming ambitions.
Just ask Tiago, who's gaming without limitations, or find out how Lisa is still in love with gaming after years of our support. Read about how Rodney can now play with his son, and see the impact that the ability to game has had on Bethany and her family.
Below (clockwise from top left): Tiago, Lisa, Bethany and Rodney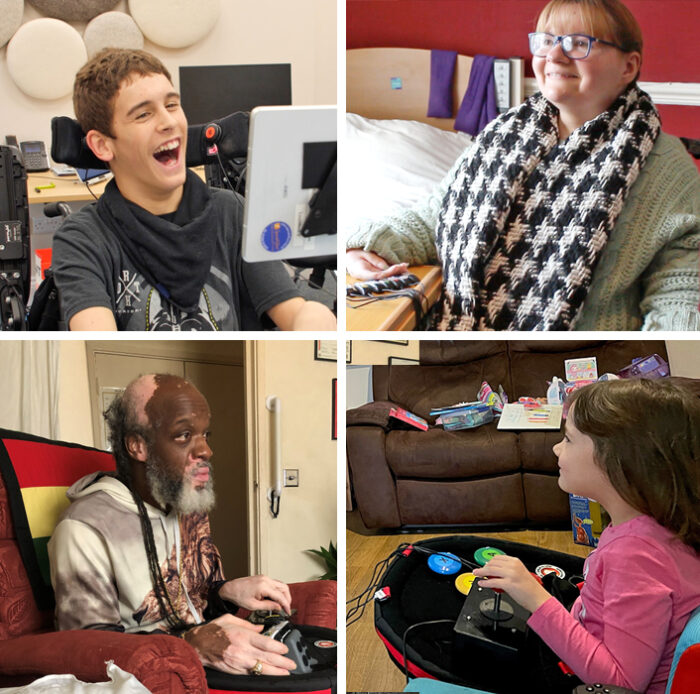 All of this magic wouldn't be possible without your help. We also wouldn't be able to provide accessibility advice through our gameaccess website, we wouldn't be able to develop ways of playing games just using your eyes, and we wouldn't be able to help developers across the world to make their games more accessible. It's YOU that's making all this truly life-changing difference.
We're more appreciative than ever for your help in these tough economic times, and GameBlast23 is going to be vitally important in supporting our work in giving people with physical disabilities the lifelong support they need to enjoy video games. So have an AMAZING time, and thank you from the bottom of our hearts!
Find out more about the difference we're making how we're making it: take a look at our website or YouTube channel, which features the stories of many fantastic players whose gaming journeys have been kickstarted by YOUR help!
---
What you said
"My son and I have so much fun playing video games together and we're lucky that we can. So I just want to help, even if it's just a little, so that others who aren't as lucky as us can experience that." – Sparky and Son.
"We spent 24 hours playing alongside our friends and had a great time whilst making OUR contribution to help SpecialEffect bring gaming to people with disabilities. That's awesome." – Nick, Finstock GameBlast
"The most fun I've had streaming in a long time." – Daniel, Coaching for Geeks
---