StarGaze
Providing the introduction, support and loan of technology when it matters most – in intensive care right after an accident or sudden illness.
StarGaze
Our StarGaze service involves the assessment and support of people in intensive care due to a traumatic injury or illness which results in them having very urgent, severe and complex physical challenges. These challenges often result in the loss of ability to communicate or have control of technology any kind. As a result of our assessment, support and appropriate technology, they are able to 'speak', access the computer for work and leisure and even play video games again.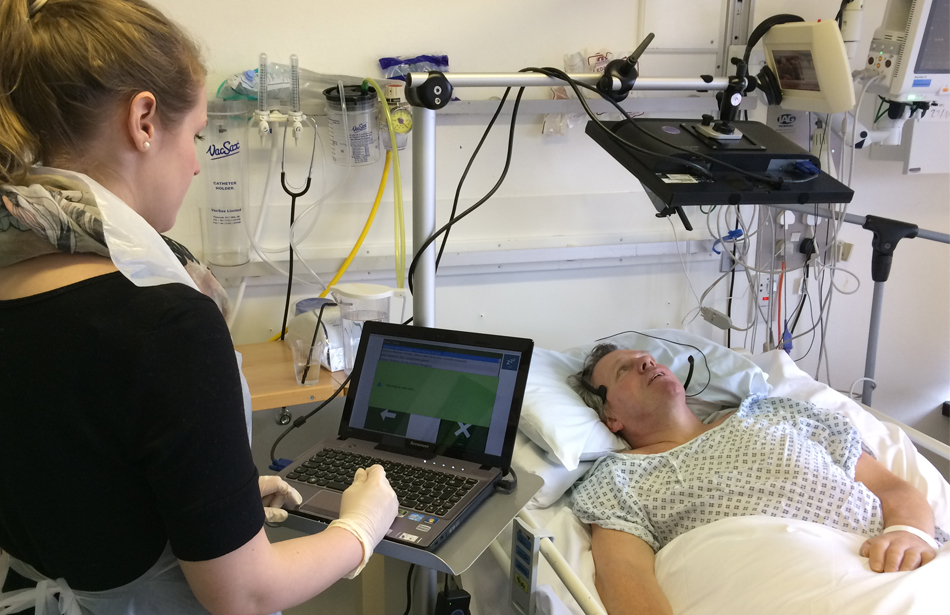 Get in touch
If you're a friend, family member or professional involved with someone in intensive care who's suffered a sudden injury or illness, and you think that eye-gaze technology might be able to help, get in touch. We particularly welcome calls from staff at Intensive Care and Rehabilitation Units.
Contact us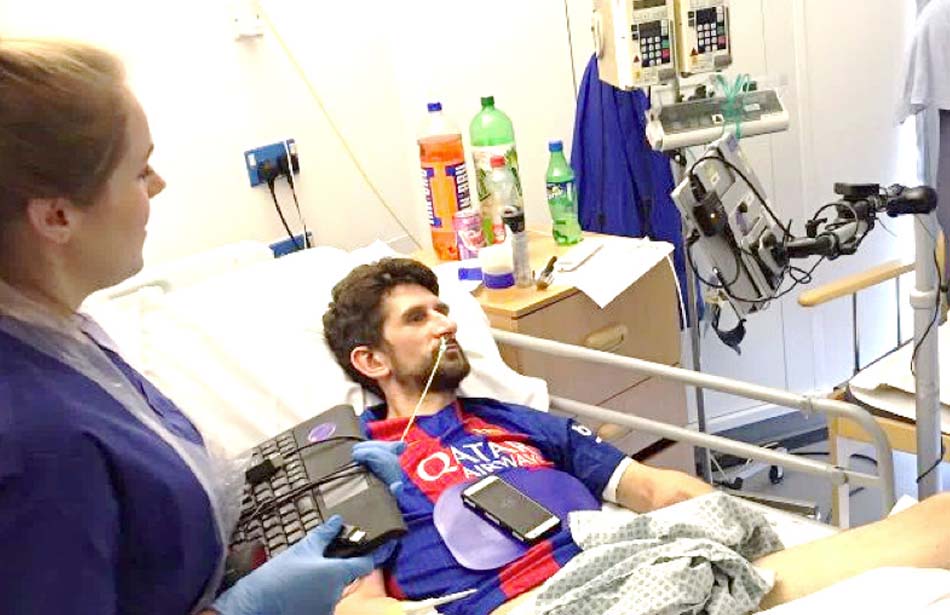 Our StarGaze support
Making eye-gaze work effectively, especially in cases of complex physical disability, relies on intensive face-to-face support and an in-depth knowledge of the different systems that are available. Our experienced StarGaze team work directly with patients and medical staff to provide support in the most effective way possible. They will assess the patient's needs and abilities in order to introduce the most appropriate eye-controlled equipment, and carefully personalise each configuration for maximum individual independence.
We'll loan the appropriate equipment to the patient and provide ongoing support for as long as it's required, adapting and updating each element as the patient's needs change. As with all our services there's no charge, which lets us help people as quickly and effectively as possible – and for as long as possible.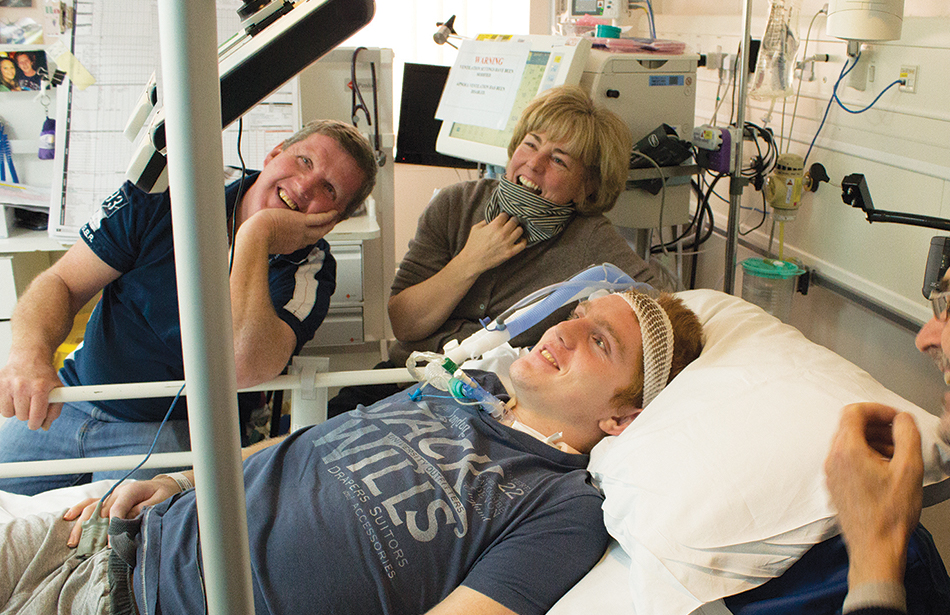 How does eye-gaze work?
Eye-gaze systems have inbuilt infrared cameras that track and convert eye movement into mouse pointer movement around the screen. Clicking is possible by blinking, dwelling (staring at the screen for a certain length of time) or by using a switch that's connected to the computer.
For people who have difficulty speaking, words and letters on the screen (usually in a grid) can be chosen and 'spoken' using an artificial voice. Phrases and sentences can be put together before being 'spoken' or stored for later use.
A huge range of computer-based tasks are potentially enabled, from opening curtains to completing a doctoral thesis. And, of course, playing video games.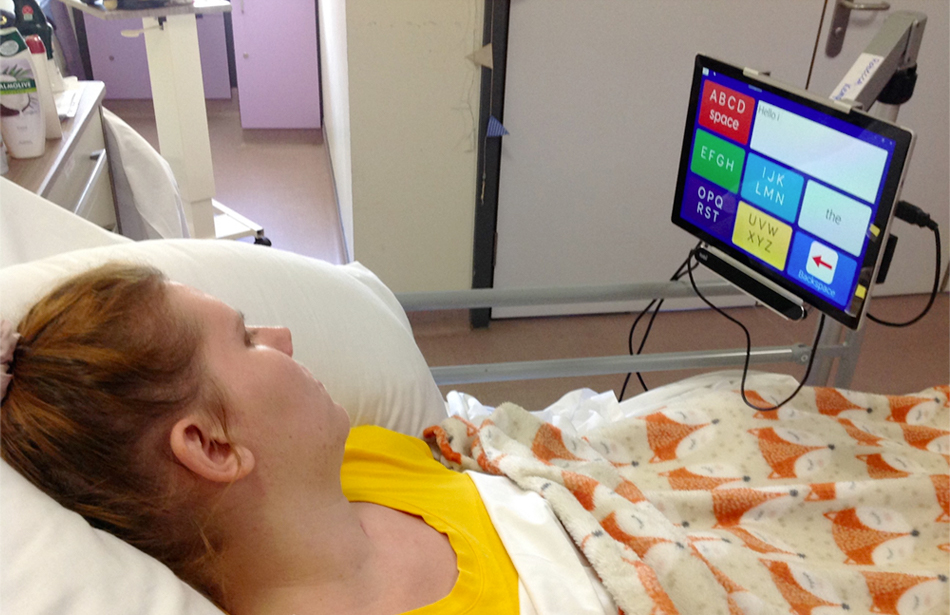 Rob's StarGaze Support
"Rob had three months in intensive care – it was huge in helping him cope with his condition. It almost doesn't bear thinking about how he would have coped without it." – father of Rob, who was paralysed after a car accident.
"The early days are when you need the most support"
Our Stargaze team helped George while he was in Stoke Mandeville hospital after a a horse riding accident. "It was wonderful," he said, "it kept me in touch, kept me entertained, and educated me in the tools that are going to be vital in the next period of my life."
Support StarGaze
We're totally reliant on your support for this exceptionally time and cost-intensive service. The cost of each eye-gaze system that we use and loan can run into many thousands of pounds. But the benefits can be, and are, truly life-changing.
"It gave my mum the ability to do what she did before her illness disabled her. Using social media, reading a book, using Skype independently made living… more bearable. When every minute of your life means so much, filling it with enjoyable things becomes vital." – Sharon, daughter of a mother helped through the project.