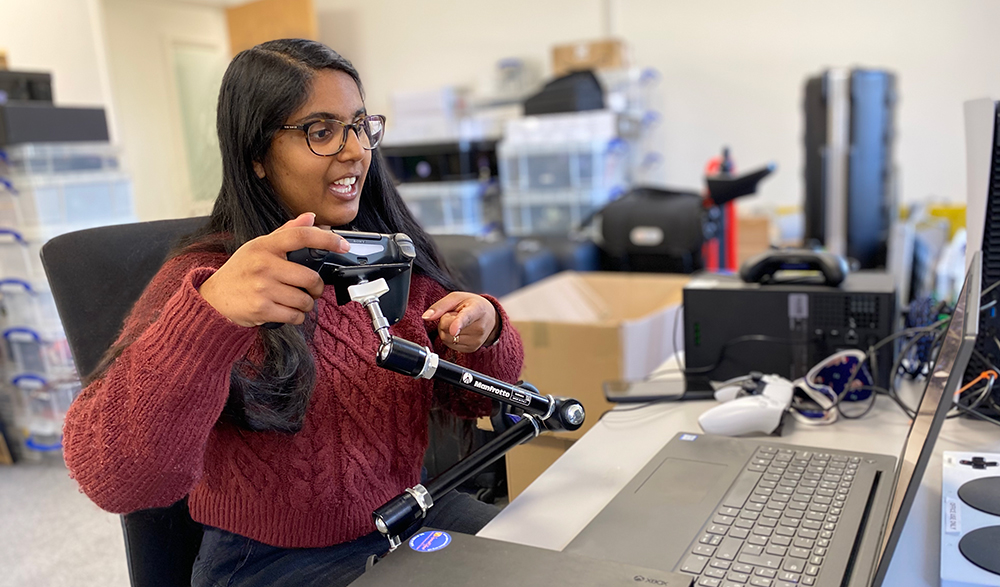 Image: Nomi demonstrates an adjustable mounting arm for a gaming controller.
Nomi's love for video games has found a match with an Occupational Therapy role that's ticking all the right boxes for her. She joined the charity nearly seven years ago directly from finishing her training and hasn't looked back.
"I've always loved gaming since I was little," she said, "So when I saw a job which combined my love of gaming with my career in Occupational Therapy, I jumped at the chance. It's hugely uplifting to help people of all ages and abilities to do something both they and I love."
She can understand how many newly qualified OTs might be reluctant to specialise early or see such a role as a divergence from a career in primary care. And the prospect of being thrown into the deep end with unfamiliar high-tech equipment might also appear daunting.
"Fortunately, it's not like that here at SpecialEffect," said Nomi. "The team and the environment here are incredibly supportive in helping you learn on the job. You're constantly learning about cutting edge technology – like eye or voice-controlled gaming – and how to apply your skills as an OT to make it work to best effect. There's no sense of being left to manage on your own."
Nomi believes that charities like SpecialEffect have an important role to play in making leisure activities like video games more inclusive. "Lockdown has shown how important gaming can be in so many ways, including socialisation, quality of life and mental health. Its popularity is only going to increase, so there's always going to be growing need for OT expertise if it's going to be truly accessible to as many people with disabilities as possible."
The charity's works directly with the person who wants to game making sure it's client-led throughout. Pre-pandemic the OTs worked in teams, travelling to visiting people in their homes or primary care settings, working directly with them to find out how they could play the games they loved to the best of their abilities.
That's changed over lockdown though. "We switched to a model of remote working," said Nomi, "It's proving to be a really effective way of maintaining not only the high quality of our service delivery, but also the numbers of people we can help. We're looking forward to face-to-face visits again when it's safe to do so, but in the meantime, we're helping more people than ever."
Another positive that Naomi's noticed is the rapport that she's able to build with the charity's beneficiaries. "We're a life-long service, so it's very rewarding to be able spend time getting to know people, sometimes over several years, building a really deep understanding of their abilities and needs."
The charity also produce their own accessible gaming resources and have an active Research and Development team that encompasses and expands on the skills and knowledge of the OT team.
"It makes for an incredibly varied and rewarding role," she said. "We're an established charity that's specialising in accessible gaming and collaborating with some of the biggest names in the industry," she said, "It's exciting – if you love gaming and you're an OT, it's a fantastic job."
SpecialEffect are currently advertising for an Occupational Therapist to join their friendly team. The closing date is 31 March.